THE CELTIC CHALLENGE CYCLE RIDE 2023
🚨 LOOKING FOR KEEN CYCLISTS! 🚨
.
In June 2023 ChallengeAid will once again be holding the 'Celtic Challenge Cycle Ride'.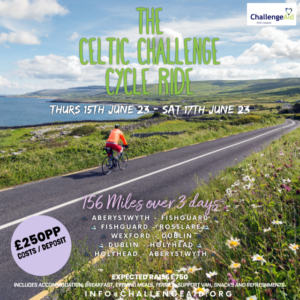 .
Dates are Thurs 15th June 2023 to Saturday 17th June 2023 and the Challenge consists of cycling 156 over the 3 days.
.
The cycle starts in Aberystwyth all the way to Dublin and back,
.
Cost is £250pp which includes accommodation and support van and expected raise is £750.
.
Please do get in contact if you are interested in taking part at info@challengeaid.org.