---
ChallengeAid creates Schools of Hope (SoH) in some of East Africa's largest and worst hit slums especially in Nairobi. A SoH caters for aspirational young children who strive to escape from the poverty in which they are trapped, and is a cross between a homework club, a library, and a youth club, but facilitates learning as its' focus. We are currently facilitating 45 SoH's catering for 4,500 aspirational young students with each SoH encouraged to achieve self-sustainability. One such example at the moment is the making of soap, which the SoH then sells into their communities at a profit. Self-sustainability is always our ultimate goal. Currently the cost per pupil to attend a SoH for a year is £8 per child which works out at just over 0.02p per day!
ChallengeAid helps to provide skills and confidence for young students who need to escape poverty, with a thorough life-skills programme and an emphasis on self-empowerment for girls. We also engage students with Music, Art, Drama & Dance, Sports, Debating & Chess.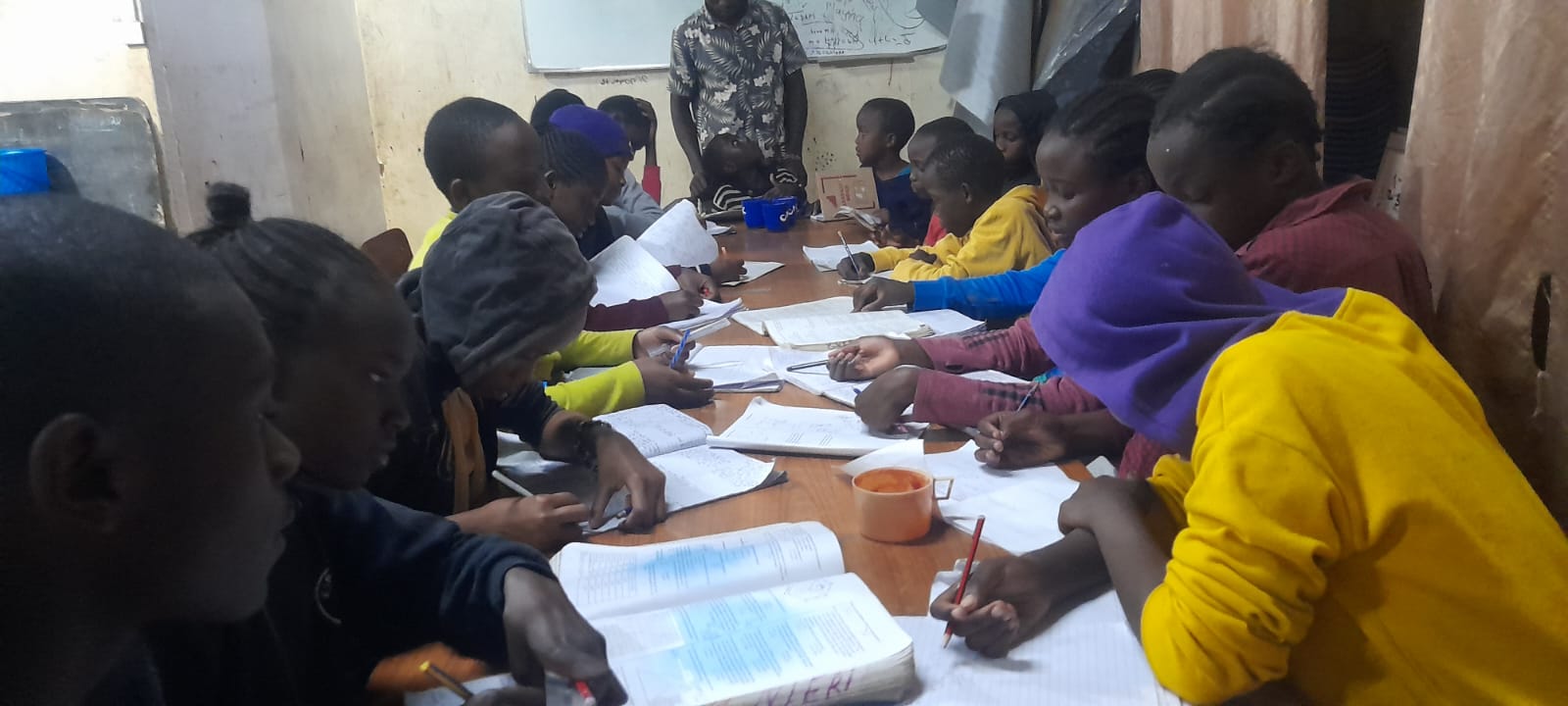 ---
Our complimentary sanitary pads programme has now been running successfully for over 12 years and our student population is 55%/45% in favour of girls, partly as a consequence of the programme which undoubtedly enables & facilitates education for girls & contributes to the empowerment of girls!

---
Creating a conducive environment for learning has been a great priority for ChallengeAid. We have renovated many of the SoH latrines and sanitation in our SoH communities through Welsh Government funding, which has allowed us to upgrade water points and provide at least two toilets in each of ten of our SoHs. We are currently adding another twenty to that list including a shower block – any child willing to take a bath will do so at no cost. (Most sanitation facilities in slums cost as households do not have own toilets or bathrooms).
During the 2020 pandemic lockdown we developed and delivered online lessons, using expert secondary science teachers here in the UK who have familiarised themselves with the Kenyan 8-4-4 syllabus. Over the last year these Physics, Chemistry, Biology and Maths lessons have been delivered every day to thousands of pupils. We are currently awaiting the secondary school exam results and our primary school results are already looking to be the best ever.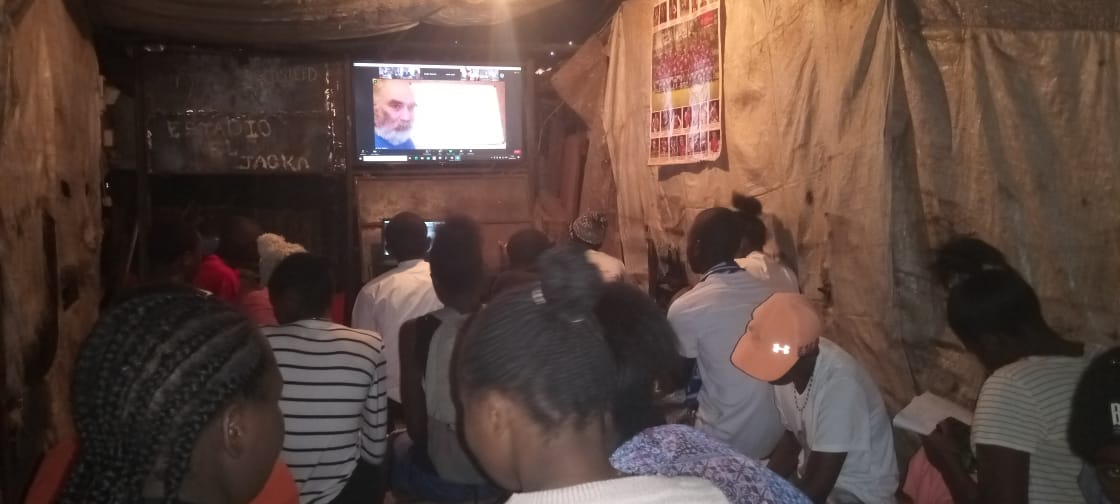 ---
Online Science & Maths KCSE (A Level) lessons
We plan to enlarge the e-learning/zoom lessons (programme) and with that in mind I approached the University of Wales Education Department at Trinity St. David's (UWTSt.D). It appears they are keen to include a module in their teacher training programme which would put further teaching teams together. These would provide online education to those SoHs in the informal slum settlements that have good electric connection and can receive WiFi. Additionally they are looking to create a library of delivered lessons at KCSE standard that can be accessed offline both by SoH pupils and supervisors, and teachers in the Informal Community Schools.

---
Since 2005 we have formed partnerships with the Federation of Slum Dwellers of Kenya and the Association of Informal Community Schools, which provide a less expensive education than that provided by the Government. These informal community schools would normally have a population of approximately 200 pupils and a small number of teachers. There are a total of 100 informal community schools catering for both primary and secondary pupils in the larger slums of Nairobi.Additionally, ChallengeAid Africa, which is incorporated and registered in Kenya in its own right and led by Sophia Kamweru, runs an improved livelihood and literacy programme among marginalized Girls and Women in Kajiado County.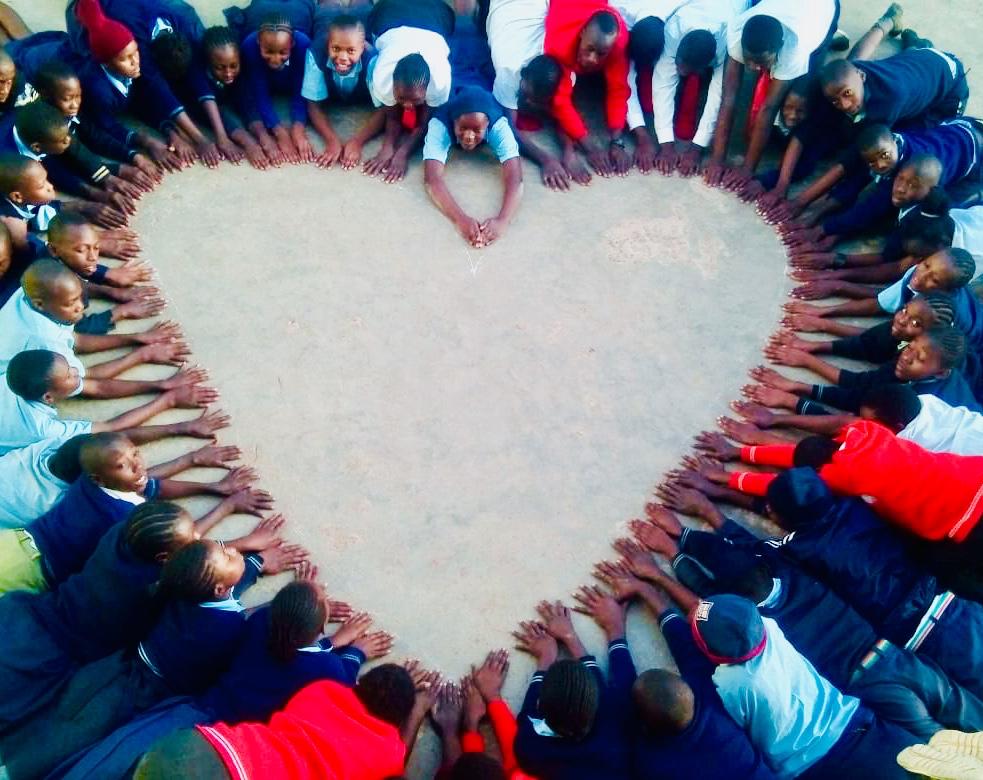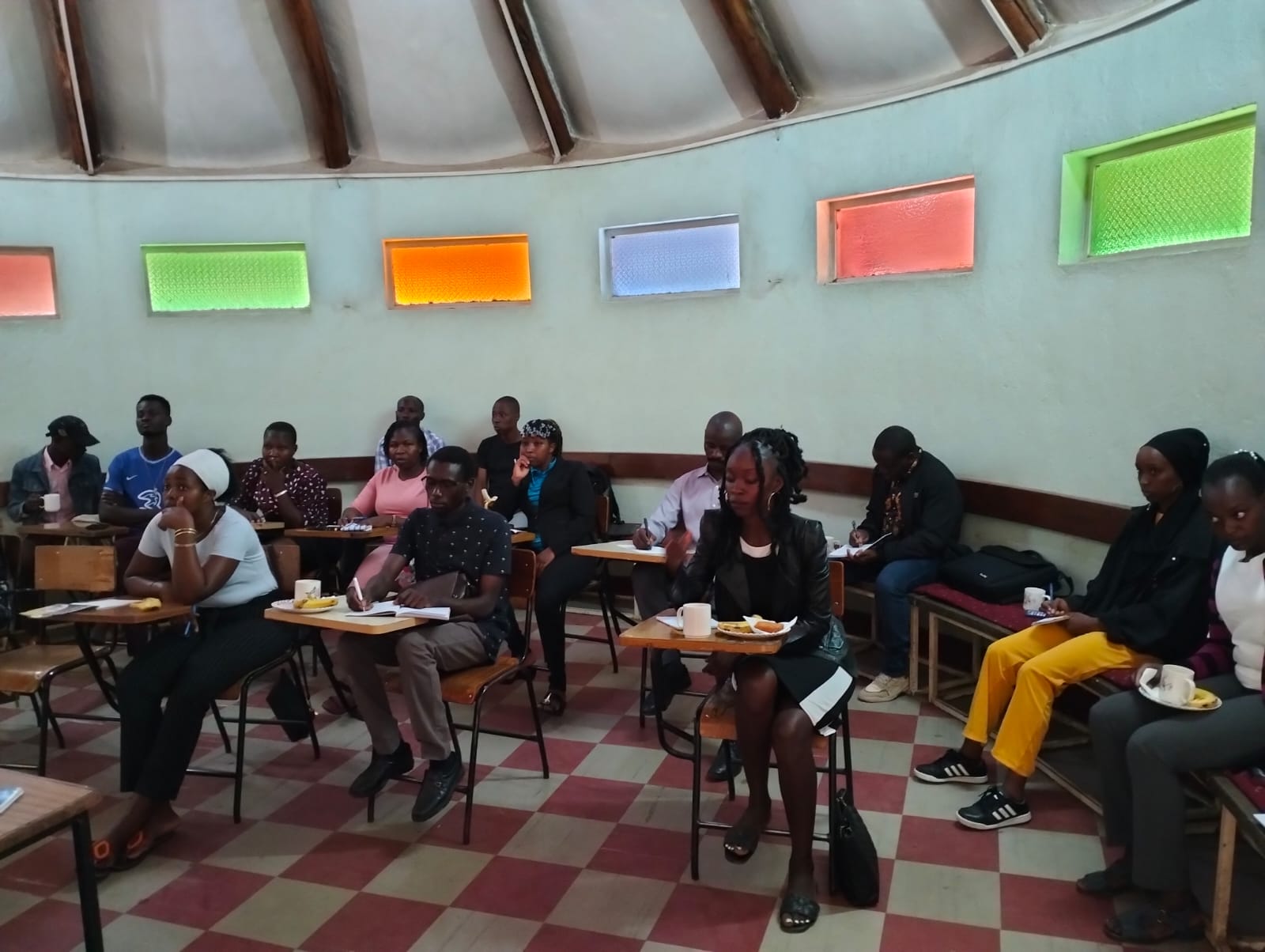 ---
Inset Training for Informal School Science Teachers
The next stage of our development would be to provide training in the sciences for those teachers at an inset in Nairobi delivered by our teachers from the UK with assistance from the lecturers at UWTSt.D. We would also provide a copy of the latest and best textbook in each science subject, along with past papers in each of the science subjects for the subject teacher. This could directly help to improve the results of approximately 2000 KCSE exam takers year by year.

---
Womens Adult Literacy & empowerment programme.
The project in Kajiado County is implemented in six locations (Bissil, Kurket, Emurwadkir, Maparasha, Ntinyika & Ilpatmaro) and aims to support 600 women and girls gain voice and the ability to improve their lives, by acquiring literacy and numeracy skills. 75 women have already acquired a Certificate of Literacy from the County Government, earning incomes through making and selling crafts, engaging in savings and credit activities, and improving hygiene and nutritional practices in their homes. Adult literacy classes provide women with the opportunity to leave their homes and interact with other women, reducing isolation and enabling them to build networks and friendships (social capital). Health training provides improved knowledge and skills in childcare, as well as in hygiene and nutrition, skills that they did not have previously. As a result of training in hygiene, 115 toilets have been built to date and are in use in Manyattas (homesteads), reducing the practice of open-air defecation which is common among the Masai, owing to the nomadic nature of the community. 69 women who are members of the literacy classes have been trained as volunteer health trainers, their role being to visit fellow women in Manyattas and train them in hygiene, nutrition, childcare. The team is supervised by a community health nurse attached to a local health centre. The women have established eight self-help groups that meet every week, to save money from which small loans can be taken out to invest in their enterprises. This project is now in its second year of implementation.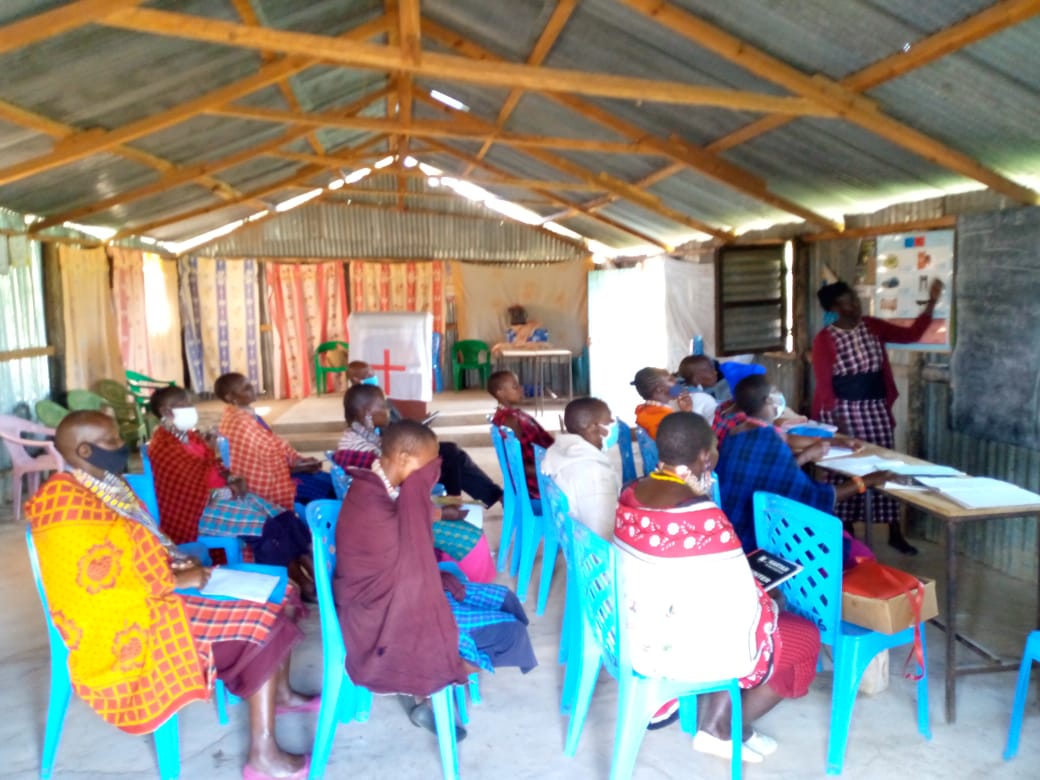 ---
'Girls Can' is an initiative set up by our ChallengeAid Africa team as a way for our female learners to meet in a safe space to discuss issues affecting them. Topics such as menstruation, gender-based violence, stereotyping and self-confidence are covered, topics which may often be seen as taboo to discuss within their families. According to research by Kenya's Ministry of Education, girls lose on average four school days every month due to a lack of access to sanitary products, which translates to two weeks of learning each term. Girls attending 'Girls Can' clubs receive free sanitary towels each month to stop this unnecessary impact on their education. The initiative has proved invaluable to our schools and has developed into a community of girls who regularly meet, with the aim to educate, support and empower each other.

---
Boys growing up in slums often face a range of challenges and issues that can significantly impact their development and well-being, some of these being: limited educational opportunities, becoming involved in violence and crime, lock of positive role models, substance abuse and addiction, health issues and limited employment issues. Our 'Boys Clubs' is a community of boys from our Schools of Hope who meet for sessions to discuss the issues that they face and ways that these issues can be tackled. Our clubs provide emotional and psychological support, personal and social development, academic guidance and motivation and mostly just an open and safe space for the boys to discuss their issues and aspirations within a supportive group. We hope that through our 'Boys Clubs' we can empower these boys and help them to build a brighter future..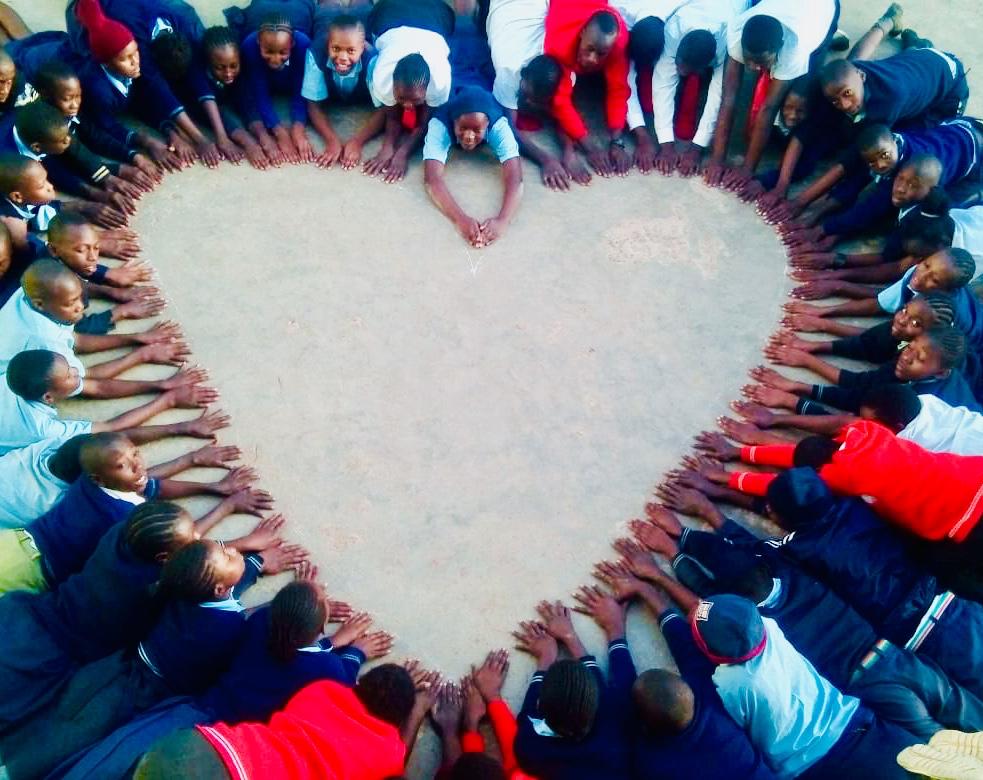 ---
Martyn Ryan,
Patrick Kariuki,
Edwin Eboyo,
Iestyn Thomas
Sophia Kamweru.